GtkEntryCompletion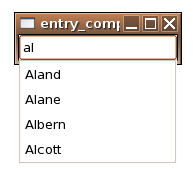 An object used to provide auto-completion functionality for a GtkEntry.
Object Hierarchy
Implemented Interfaces
Description
Properties
Use get_property and set_property methods to access these.
  The data model used for the GtkEntryCompletion.
  Minimum length of the search key in order to look up matches.
  The column of the model containing the strings.
Signals
 
 
  The "match-selected" signal is emitted when a completion string was selected from the completion list.